Everest Panorama Photo Album
Photos by Joshua Newman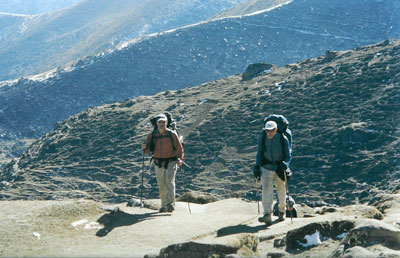 Trekking from Dole to Machermo

Here, above 4,000 meters, we've started donning an extra layer over the t-shirts that had sufficed till now. The trekking poles are very helpful in taking weight off the legs on the uphills, shock off the knees on the downhills and maintaining balance.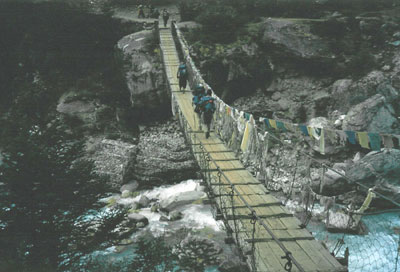 Bridge Across The Dudh Kosi

The trek to Gokyo Ri follows the Dudh Kosi, several times traversing high above the raging river on steel cable-supported suspension bridges.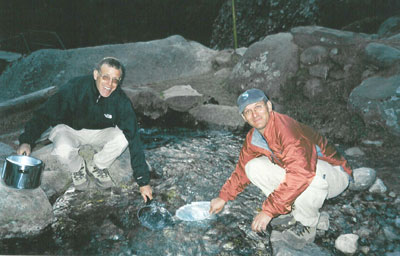 Toveling new Nepalese pots

Toveling (i.e. immersing in running water) new Nepalese pots in the Dudh Kosi River before first use. Brrrrr !!!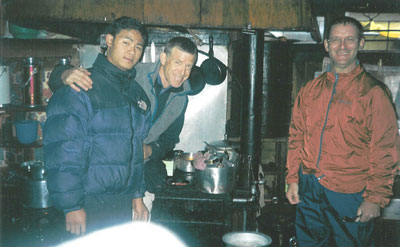 Koshertreks commandeering a Nepalese kitchen

Our Nepalese hosts were gracious in welcoming us into their kitchens, and totally cooperative in the preparation of our Kosher meals. Believe us - he was also flashing a toothy grin soon after this shot !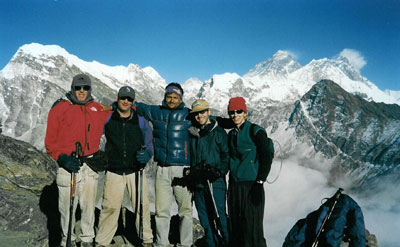 Ktreks atop Gokyo RI

5,340 meters / 17,550 feet. Behind us are Everest (the tallest of the peaks on the right-hand side) and Lho Tse - 4th highest mountain in the world (against the wisp of cloud to Everest's right). Not visible in the photo is the rest of the breathtaking 360 panorama, including Makalu (5th highest), Cho Oyu (6th) and a host of other stunning Himalayan peaks.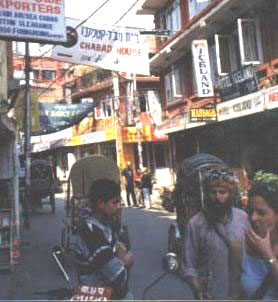 Chabad House, Kathmandu

Our trek ends with Shabbat in Kathmandu, including davening and meals at Chabad House - Beit Knesset (synagogue), Kosher restaurant, meeting place and home away from home for many Jewish travellers.