Trekking Experiences
I've always loved the mountains, felt at home there. They put the world into perspective.
When hiking, I try to carry as little as possible, only as much as I really need. This somehow carries over to other, non-physical realms as well. Being with family, friends, or even complete strangers is simpler and less encumbered, focused as we all are on the natural splendor around us, and on the straightforward task of helping each other reach the next station of our journey. Prayer, too, never uncomplicated for me, is somehow less burdened there ("because we're closer to G-d," my son once joked).
Trekking in the mountains can be difficult; but as is so often the case, adversity and appreciation are inseparably embraced. There I've had the chance to (re-)learn the pleasures of a hot meal, a warm place to sleep, an open door in a storm. Allow me one anecdote:
Several summers ago, hiking in the Alps, my five children, wife and I were caught in an unseasonably heavy downpour. Despite our raingear, we were soon quite wet and cold, and several hours from the nearest refuge. Trudging along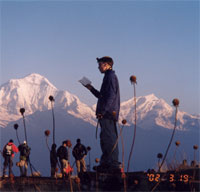 through ankle-deep mud, we came upon an isolated alp (a small, stone hut where the Swiss make cheese), and thinking (hoping, really) that it perhaps was an unmarked hostel, knocked on the door. We were greeted with gracious smiles by a young couple and their toddler who had come for the summer to help the elderly owner of the alp produce his cheese. No, it was not a hostel, they explained, but "you must come in and drink some hot chocolate". Soggy and rather demoralized, we eagerly accepted their offer. We sat on their beds (we were many and the alp was small), sipped our hot drinks, warmed ourselves next to the stove, and watched how cheese is made (it's not so simple). We sat for some time, perhaps an hour or so, until the rain started to let up. "You really should stay," they urged, " they say there may be snow." We demurred, as we had to move on, but insisted that they take payment for the refreshment (it's amazing how much hot chocolate and tea seven cold and damp people can consume). They adamantly refused. "That's why we're here," they said.
"That's why we're here". Avraham avinu, I later told my children, had a tent just like this alp...

-YF